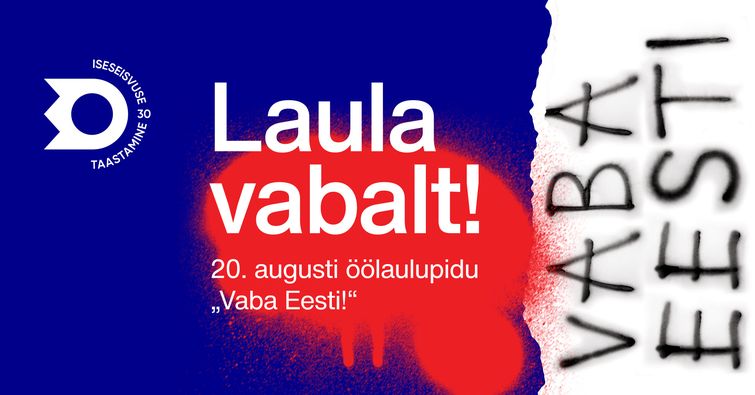 The FREE ESTONIA! night song festival dedicated to the thirtieth anniversary of the restoration of independence will take place on 20 August at 7 p.m.–12.30 a.m.
There is no need to go far from your home or locality to participate.It is enough to gather your family or meet up with friends or the community and sing along to songs that we have sung many times, or have at least heard, over the years. The songs will also be broadcast on the Estonian Television.To take part in the festival, you can form your own group of singers.
This is important, as we also restored our independence in a singing revolution. Performed in a small circle of friends at first and more and more openly later on, the songs carried the message of freedom and the homeland. Even if the message was not always so direct, we always recognised it, even if we had to read between the lines, and sang along. Drawing inspiration from the same feeling, Alo Mattiisen's patriotic songs and night song festivals were soon born.
This is how the Singing Revolution became possible – not a single drop of blood was shed.This year's night song festival includes almost sixty songs performed by fifty young and older artists.
THE FESTIVAL WILL BE BROADCAST ON ETV AND YOU CAN READ THE LYRICS FROM THE SCREEN.All you have to do is REGISTER YOUR GROUP OF SINGERS HERE: 30aastat.ee/en/night-song-festival and sing freely!